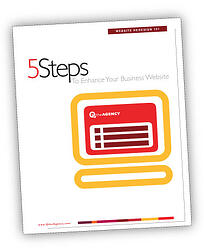 61% of global Internet users research products online before purchasing a product or service.
Are you considering redesigning your website? Every now and then your website needs a refresh. A redesign can be a huge success - or it could fail terribly. After all, it's a long and tedious process. Website redesign is just as much about functionality as design.
Find out what questions you should be asking and areas that are critical to a successful redesign process in Quantum's latest eBook 5 Steps to Enhance Your Business Website.
This useful eBook will:
Determine if a website redesign is right for you
Provide strategy and best practices for the redesign process
Walk you through key assets to review and important metrics for continued growth
Takeaways for converting and attracting visitors
To download the eBook, just fill out the short form to the right!